Atmel ATSHA204
From Lars' Site
The Atmel ATSHA204 is an authentication device by Atmel. It is available in 4 different packages and two different versions:
I²C Communication
Single wire communication
The single wire is using a proprietary communication protocol. Notice that it is not a 1 Wire device. Personally I'd prefer to use the I²C version, but for a quick test Sparkfun had a breakout board featuring the single wire version, so I'd be doing a bit of experimentation on that one first.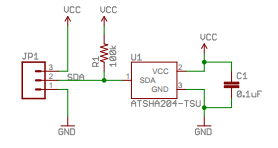 I got several cool ideas for this device, but currently I am looking at creating a small USB device that will act as an unclonable key, so this page will focus on that.
Gallery
Miscellaneous Links